ALBA is holding a webinar series focusing on region-specific issues linked to diversity and faced by underrepresented groups in brain research around the world.
Diversity and inequity have a different meaning depending on a region or country's culture and history. With this series, the ALBA Network wishes to picture a truly diverse and global view on issues faced by underrepresented neuroscientists, but also to discuss possible solutions to these challenges, which would be relevant to particular regions of the world by taking into account their specificity.
This webinar is the first of the Middle East & North Africa series.
Watch the recording of this webinar
Challenges and opportunities for neuroscientists in the MENA region
Friday 3 December 2021, 11 am - 12:30 pm EST / 5 - 6:30 pm CET / 8 - 9:30 pm GST
In this webinar, ALBA wishes to address diversity issues across the Middle East and North Africa (MENA) neuroscience community. 
The panel discussion will explore the challenges and biases faced by neuroscientists while establishing their research groups and careers in the region, from an academic and cultural perspective. This will be followed by highlights of success stories, unique region-specific opportunities for research collaborations and recommendations to improve representation of MENA brain scientists in the global stage.
The session will be chaired by Prof. Hilal Lashuel (EPFL, Switzerland - Associate Professor and ALBA Advisor), Dr Hala Darwish (American University of Beirut, Lebanon / University of Michigan, USA - Associate Professor) and Dr Dipesh Chaudhury (New York University Abu Dhabi - NYUAD, UAE - Assistant Professor and ALBA Ambassador).
A discussion with the audience will follow the presentations.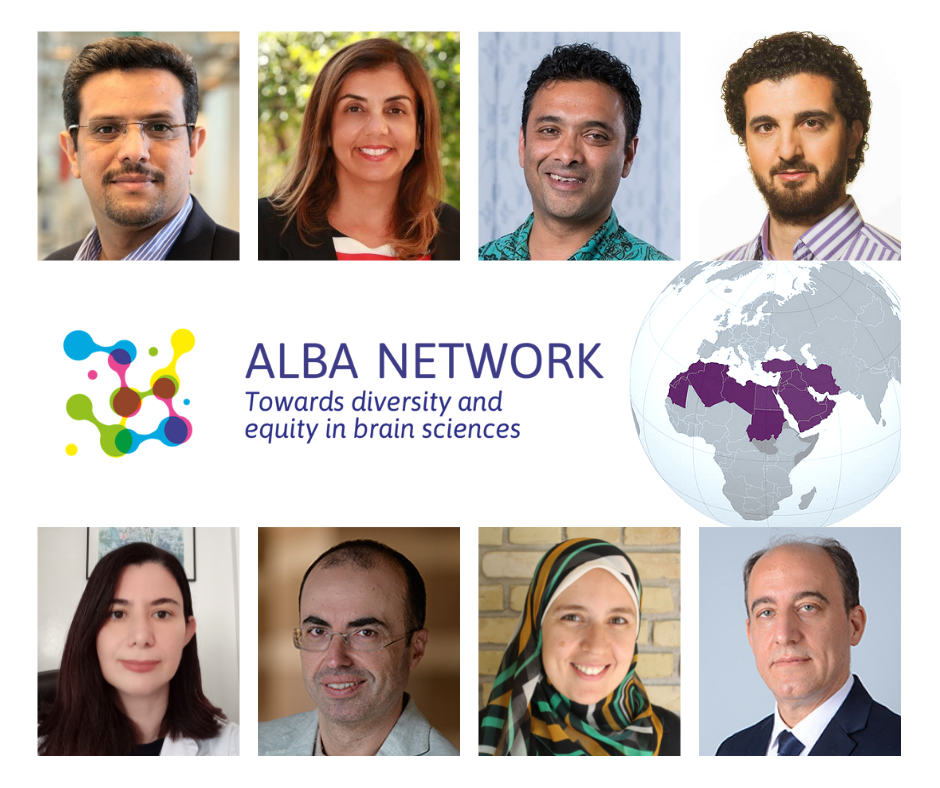 Hilal Lashuel (ALBA Advisor and Panel Chair) - Associate Professor of Neuroscience at the Brain Mind Institute at École Polytechnique Fédérale de Lausanne (EPFL) in Switzerland, he is also the founder and Chief Scientific Officer of ND BioSciences SA. His research focuses on the application of integrative chemical biology approaches to elucidate the mechanisms of protein misfolding and aggregation and their contribution to neurodegenerative diseases.
Hala Darwish (Panel Chair) - Associate Professor at the University of Michigan School of Nursing in Ann Arbor, member of the Michigan Concussion Center, and a Neuroscience Scholar and affiliate of the Michigan Neuroscience Institute, her clinical specialty is in cognitive neuroscience and her research focuses on cognitive functions and rehabilitation factors in traumatic brain injury, multiple sclerosis and aging. At the American University of Beirut, she was associate professor at the Hariri School of Nursing and managing director of the Abu-Haidar Neuroscience Institute. 
Dipesh Chaudhury (ALBA Ambassador and Panel Chair) - Assistant Professor of Biology at New York University Abu Dhabi (NYUAD) in the United Arab Emirates (UAE), his research group uses a combination of behavioural models of stress in mice together with in-vivo and in-vitro electrophysiology, optogenetics, fiberphotometry and molecular approaches to investigate the cellular and molecular processes that link the association between stress, circadian rhythms and sleep-wake cycle. 
Mohammad M. Herzallah (ALBA Ambassador) - Founding director of the Palestinian Neuroscience Initiative at Al-Quds University, Palestine and research scientist at Rutgers University, USA, he explores biomarkers for the diagnosis of mental ill-health to digitize and democratize mental health.
Samia Bensassi (ALBA Ambassador) - Associate Professor of Neurology at the Mongi Ben Hmida National Institute of Neurology in Tunis, Dr Ben Sassi is treasurer-elect of Movement Disorder Society (MDS)-Africa, member of the IBRO-MENA executive committee and vice general secretary of the Tunisian Society of Neurosciences. Dr Ben Sassi is involved in the study of hereditary neurodegenerative diseases and mainly Parkinson's disease genetics. 
Mohamed Salama - Associate professor at the Institute of Global Health and Human Ecology in the American University in Cairo, Egypt and currently a senior Atlantic fellow for brain equity at the Global Brain Health Institute, he works in the area of neurodegenerative diseases to study the interplay between gene and environment and their impact longitudinally on diseases and health of aging population.
Sara Elfarrash (ALBA Ambassador) - Assistant Professor of Physiology at the Faculty of Medicine in Mansoura University, Egypt, her research focuses on studying protein aggregation and the role of inflammation in the pathophysiology of neurodegenerative disease mainly Parkinson's and Alzheimer's diseases, using organotypic brain slices and animal models. She earned a double Ph.D. degree with recognition from both Mansoura and Aarhus University, Denmark in 2020 and was recently granted the 2021 IBRO Early Career Award
Karem Al-Zoubi - Professor of Pharmacology and Therapeutics, Department of Clinical Pharmacy, Faculty of Pharmacy, Jordan University of Science and Technology (JUST), Irbid, Jordan, he is the co-founder of the Responsible Conduct of Research Fellowship - a Joint International Degree at University of California, USA and JUST, Jordan. His research focuses on the neuropharmacology of learning and memory, neurodegenerative diseases, pharmacogenetics, research ethics, bioethics and neuroethics. 
The ALBA Network is happy to partner with NEUROWIDE to implement live captioning of the webinar and real-time translation from English to Arabic, as well as subtitling of the recorded video. 
The webinar will be captioned live in English & Arabic. You may view the live transcript by clicking on this link. The QR code on the top right corner of the interface allows you to view the transcript on your mobile phone. 
Please note that the live caption is made by a computer and we apologise in advance for any mistakes in the translation.