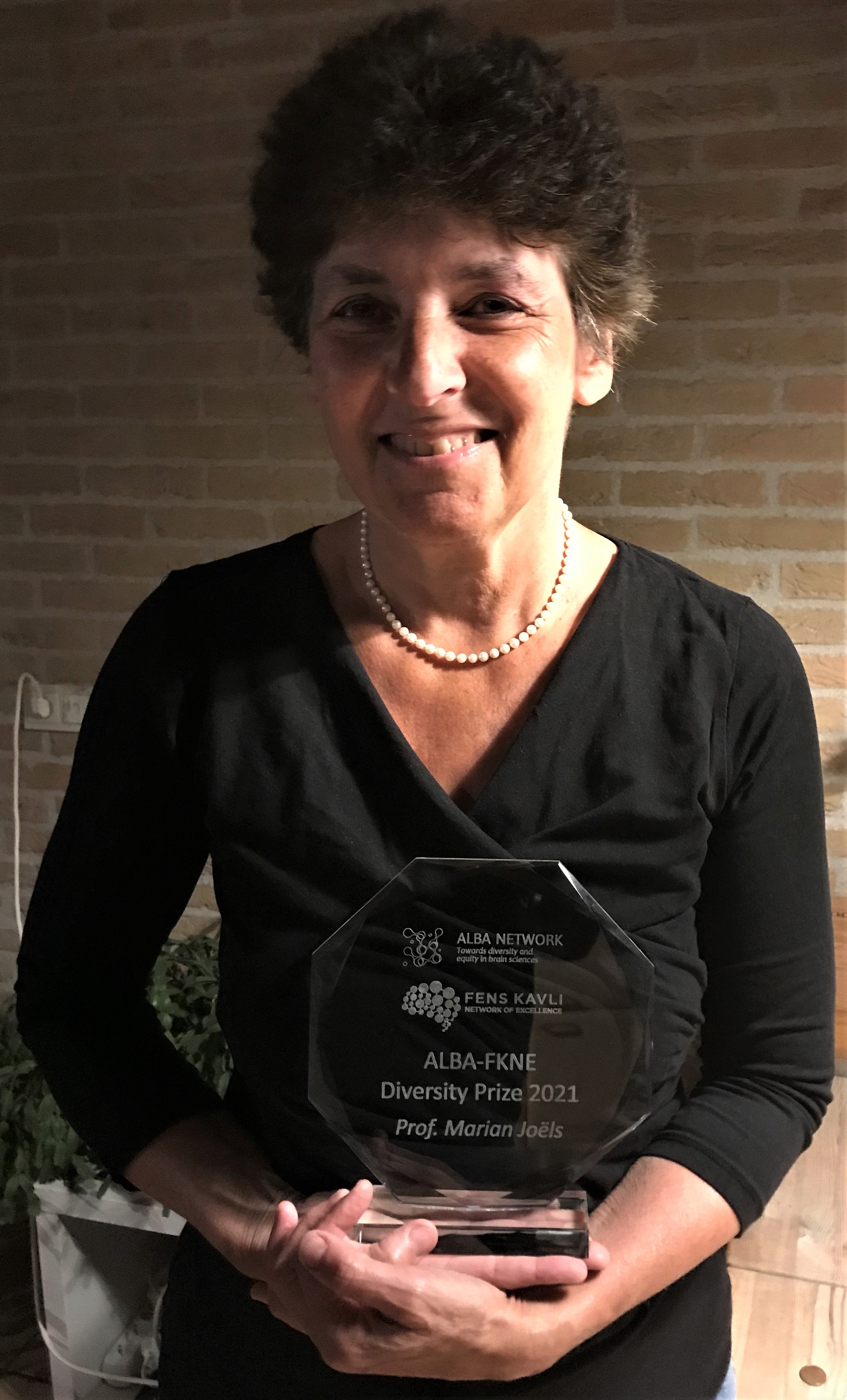 Marian Joëls is Dean and Member of the Board of Directors at the Faculty of Medical Sciences, University of Groningen (Netherlands). Her research focuses on the effect of stress in health and disease.
Prof. Joël was awarded the ALBA-FKNE Diversity Prize 2021 for constant efforts in fostering gender equality in neuroscience. Among them, The ALBA Network and The FENS-Kavli Scholars would like to highlight the following:
She founded and led networks and courses for female scientists to promote mentoring and community-building.
She helped create the MacGillavry Fellowship at the University of Amsterdam to recruit talented female scientists.
She has had a leading role in training and mentoring young scientists of diverse backgrounds and creating opportunities for involving young scientists in science policy and community actions.
From 2012-2014, Prof Joëls served as the first women president of the Federation of European Neuroscience Societies (FENS).
We asked Prof Joëls why diversity in scientific organizations is a necessity:
"For the optimal functioning of organizations like universities, diversity is not just nice to have but a need to have. Making space for diverse viewpoints enables the organization to adapt to a continuously changing academic world." 
To lab or department heads who say they are struggling with hiring or keeping women in science despite their best efforts, she asks: "Well, what did you do to make it easier for them? Did you ever asked them: How can I help you? What does it take for you to continue here?"
The ALBA-FKNE Diversity Prize Selection Committee would like to congratulate Prof. Joëls for being such an inspiration and encourage her to continue her efforts.
More information on the ALBA-FKNE Diversity Prize here.
Mentioned in the video - Marian's book  "Baanbreeksters" ISBN:9789044645644 (2021)
They appear in the video:
Dr. Laura Andreae (King's College London, UK) - Chair-elect of the ALBA network
Dr. Andrew Lin (University of Sheffield, UK) -  Chair of the ALBA-FKNE Diversity Prize Committee 
Prof. Menno Witter (NTNU, NO) - Member of the ALBA-FKNE Diversity Prize Committee
Dr. Patricia Gaspar (INSERM, FR) - Chair of the FENS Committee for Higher Education and Training (CHET)
Dr. Stamatina Tzanoulinou (University of Lausanne, CH) - Nominated Professor Joëls for the ALBA-FKNE Diversity Prize
Dr. Angela Sarabdjitsingh (University of Utrecht, NL) - Nominated Professor Joëls for the ALBA-FKNE Diversity Prize
Dr. Rixt van der Veen (University of Amsterdam, NL) - Nominated Professor Joëls for the ALBA-FKNE Diversity Prize
Ms. Valeria Bonapersona (University of Utrecht, NL) - Nominated Professor Joëls for the ALBA-FKNE Diversity Prize
Prof. Harm Krugers (University of Amsterdam, NL) - Former coworwer of Professor Joëls